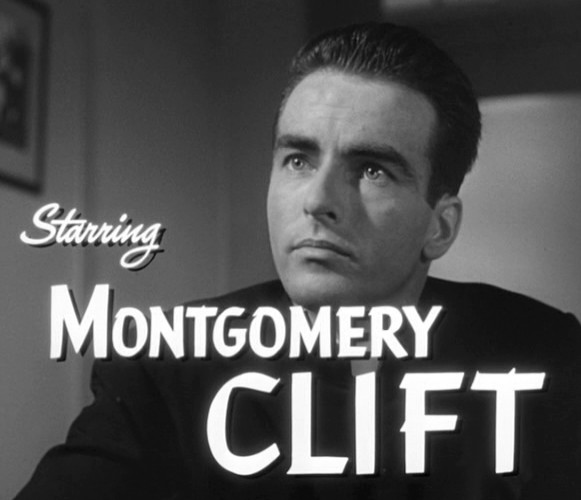 Montgomery Clift is my acting hero. From the moment I first caught a glimpse of him seducing Shelley Winters and romancing Elizabeth Taylor in A Place in the Sun, I was hooked, forever a Monty Clift fan.
It was a hot, sweltering summer day I saw him on celluloid; how apt, as he made everything so delightfully steamy.
Since that afternoon, I vowed to watch every Montgomery Clift film I could get my hands on. So imagine my excitement when I stumbled across a Monty Clift movie day on Turner Classic Movies. It was Montgomery Clift movie marathon madness! Over twelve hours of Clift films running all day on TCM.
With all that Monty in the summer heat, a girl could get a little flustered!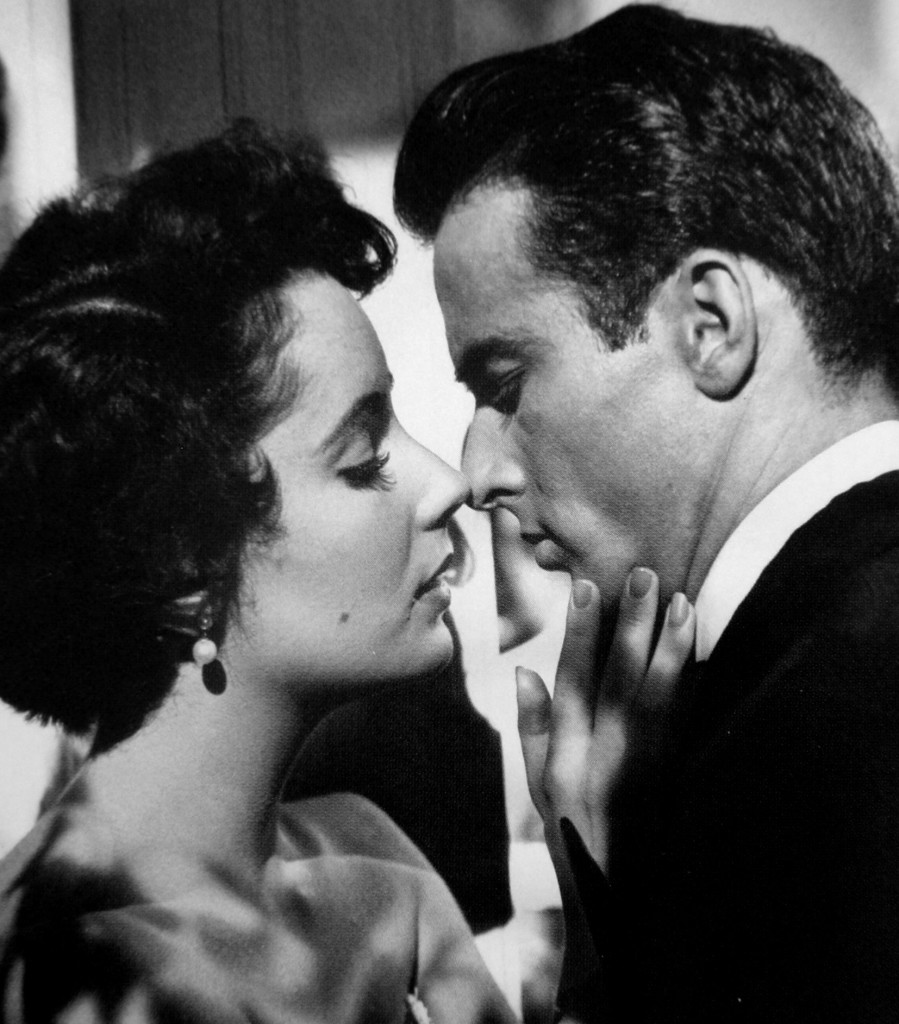 Unfortunately, I missed the first half of the marathon, and I'm disappointed I didn't get to watch A Place in the Sun again. On the bright side, I was able to record three Clift films: I Confess, Indiscretion of an American Wife, and The Defector. These movies aren't as well known as A Place in the Sun, but still worth your time, to experience three varied and intriguing characters created from the heart and soul of Montgomery Clift.
Montgomery Clift: Our Greatest Actor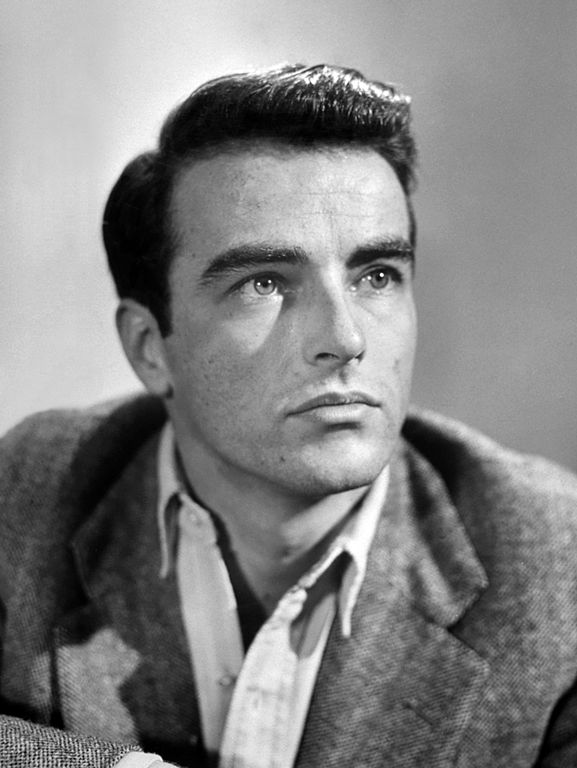 Much has been made of Montgomery Clift's tortured life; some have called his final years a "long suicide." You can discover details about his personal life by searching online or find out more by reading biographies, such as the book by Patricia Bosworth.
These capsule movie reviews focus on his incredible acting and storytelling, his amazing energy and personal magnetism.
I have a passion for Clift's work and study his acting for clues about technique; I feel an affinity with him as a kindred spirit. The greatest actors inspire this kind of soul connection, allowing us to identify with their characters and step into their shoes during a performance.
When acting is truly authentic, there's transference of emotion, a transcendence of experience and a suspension of space, time, and often, disbelief. We are thrust into the story, living vicariously through the actors who become a channel or vessel for the human experience. Through the actor's craft we are propelled skillfully into places that can be joyful, cathartic or revealing. It's a wild ride, that journey, but so illuminating when we are under its spell.
In this way, acting as art exposes what it's like to be human, in all our pain and glory, embracing the shadow sides and the light.
Monty Clift was a true artist and one of the best actors of all time, arguably our greatest actor.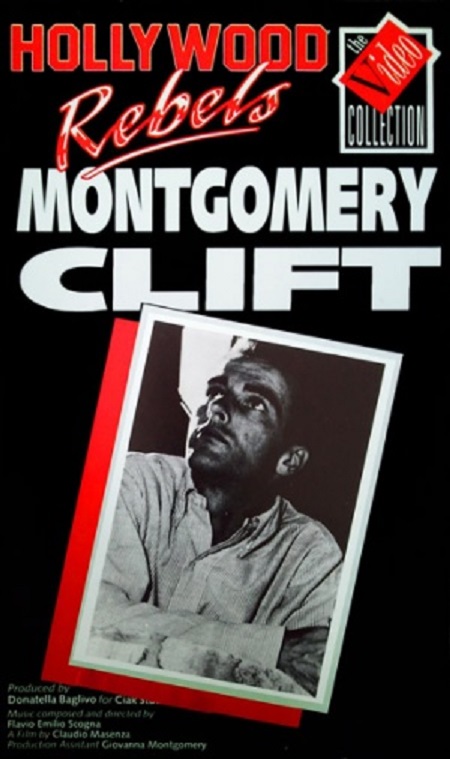 Through his authenticity, his unflinching honesty, insight and sensitivity, and the courage to bare his soul while disappearing into each role, he draws us so deeply into the world of his characters that we feel we are living the story with him.
This is when acting is being.
After his initial success in Hollywood as a box office sensation, Clift could have settled, cranking out a series of predictable hits that cashed in on his charm and good looks, but his dedication to the craft of acting led him to make some interesting career choices.
I Confess (1953)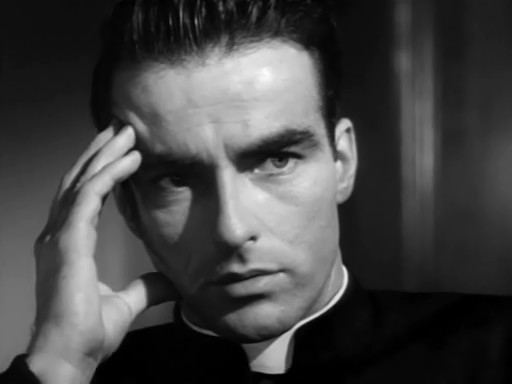 Montgomery Clift started acting at the tender age of thirteen. After ten years on Broadway (acting onstage with the likes of Lunt and Fontanne!), he headed out to Hollywood, where he was cast in films like Red River with John Wayne and The Search (which earned him his first Academy Award nomination).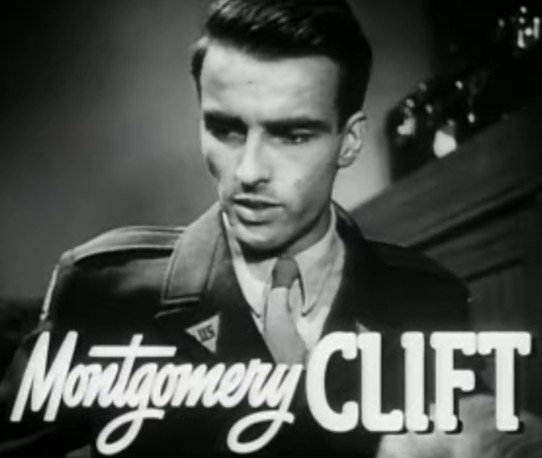 I Confess (1953) represents a moment in celluloid time, before Monty's car accident and subsequent personal decline. The early 50s were the height of his popularity and great physical beauty and energy immortalized in films like A Place in the Sun (1951) and From Here to Eternity (1953).
Although he was adored for playing the romantic lead in films like The Heiress and marketed as a Hollywood "heartthrob," Clift signed on to portray a priest in I Confess. That unexpected choice seems a bit unusual for a celluloid sex symbol, but Montgomery Clift was the antithesis of the cookie-cutter Hollywood star, and his theatre background and commitment to acting made him quite selective about roles.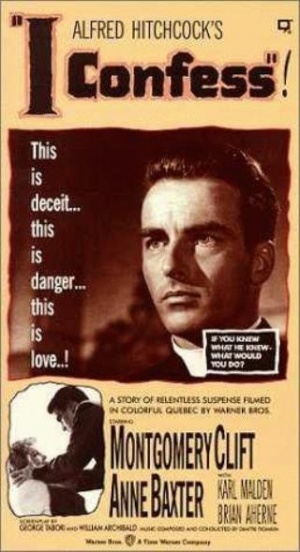 Monty made a great decision to play this character, as he is amazing in this film. Directed by Alfred Hitchcock, I Confess is the story of Father Michael Logan, Catholic priest at a Quebec church where Otto Keller is employed as caretaker. Keller kills a man he is trying to rob, then confesses to Father Logan. When the priest comes under suspicion for the crime, the story turns on whether or not Logan will disclose the secrets of the confessional in order to prove his own innocence.
This movie can't hold a candle to Hitchcock's better known films (like my personal favorite Notorious.) The killer is exposed so early on that it ruins any hope of mystery; instead, we are left with a gripping psychological character study of Father Logan, and that is what makes the film remarkable.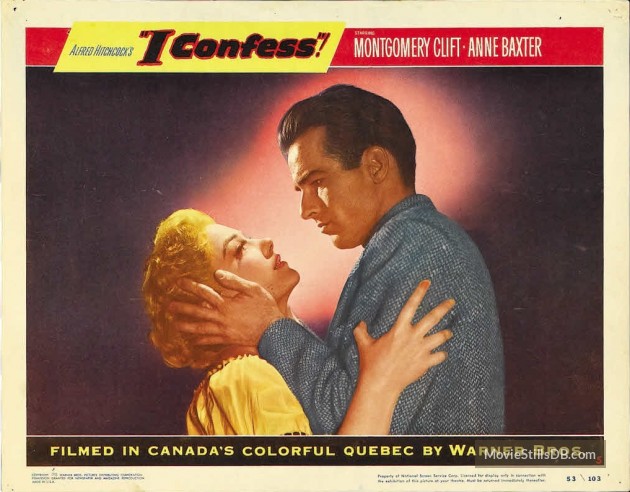 As much as I've enjoyed Clift in his earlier sensual and romantic roles in Hollywood, I find him wholly believable as he tackles the part of an anguished priest with utter conviction. It's a treat to see Hitchcock's camera linger on Monty's face in close ups that reveal the nuances of Logan's struggle.
Anne Baxter and Karl Malden are also worth watching. Baxter is the woman Logan had a romance with before he joined the priesthood, and she brings a little soul to the prototypical "Hitchcock blonde." Malden is also well cast as the determined Inspector.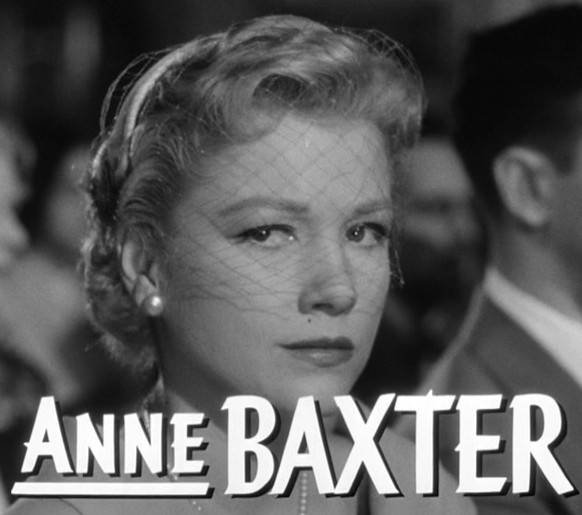 I Confess should be required viewing for admirers of Montgomery Clift and Alfred Hitchcock. At the very least, you'll have bragging rights. While other Hitchcock fans rave about North by Northwest and Strangers on a Train, you've experienced I Confess!
Indiscretion of an American Wife (1953)
In 1953, Monty starred in I Confess, Indiscretion of an American Wife and From Here to Eternity. Indiscretion of an American Wife, also known as Terminal Station, is a showcase for Montgomery Clift's handsomeness and acting talent, capturing him at his peak, in those years right before his devastating car accident.
Directed by Vittorio De Sica and co produced by David O. Selznick, this is one of the more obscure films in the Clift canon. Indiscretion of an American Wife: love it, hate it, or have you even heard of it? This relatively unknown little film seems to provoke strong positive or negative reactions in the few people who have seen it.
Jennifer Jones is Mary (aka Maria), an American housewife visiting Rome who falls head over heels for Giovanni, a sexy Italian played by Clift. The title Terminal Station encapsulates the mood of the film, as her marriage and child mean the lovers are trapped in a hopeless affair with nowhere to go but the end of the line.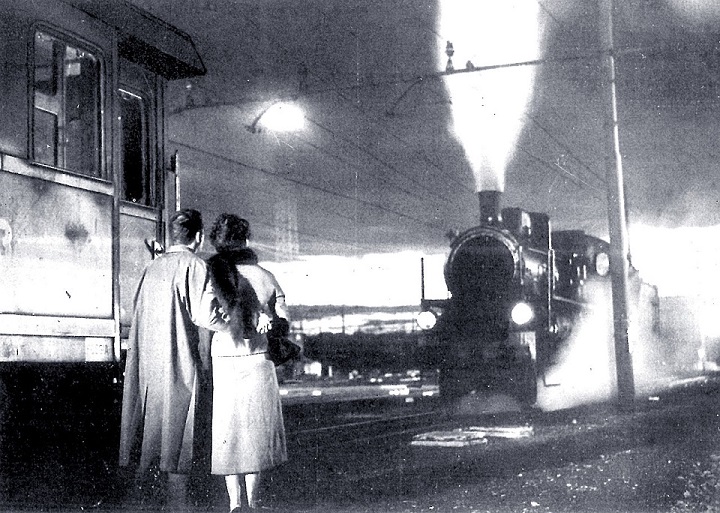 I'll admit this movie has script problems and can't quite figure out what it wants to be: a gritty, realistic tale about love and relationships or a soapy, overwrought melodrama.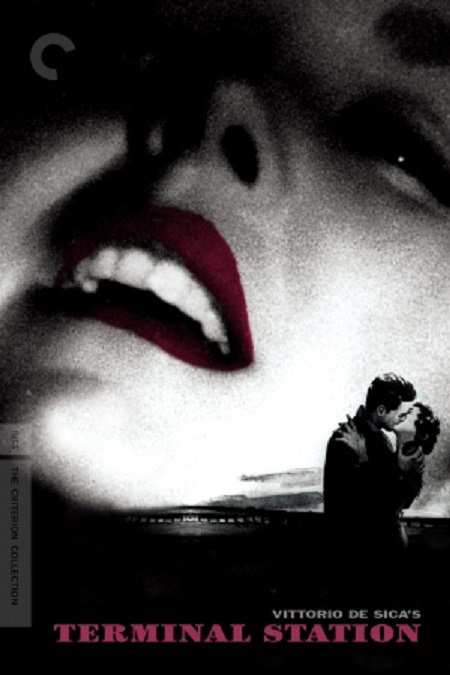 However, I really enjoy the movie, because the strength of the picture rests in the hands of Monty Clift and Jennifer Jones, who rise above the trite material to deliver two heartfelt performances.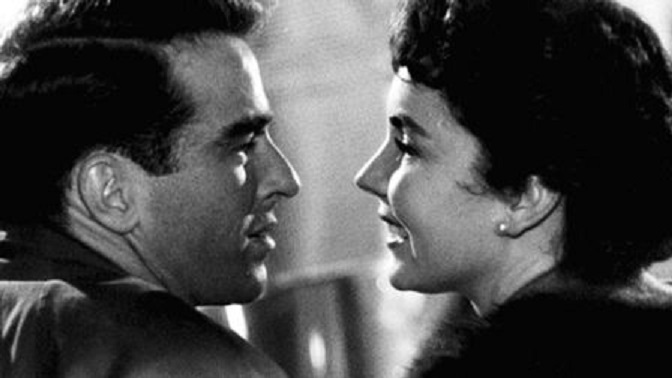 I've always liked Jennifer Jones, especially in a film called Good Morning, Miss Dove. She has a gravity and authentic beauty that doesn't rely on artifice. I sense she had a huge inner life also, and this bleeds into her portrayal of Maria. Indiscretion of an American Wife was shot entirely in Rome's Stazione Termini (train station); the way the light plays off Maria's face and captures her expressions is luminous and adds to the film's haunting quality.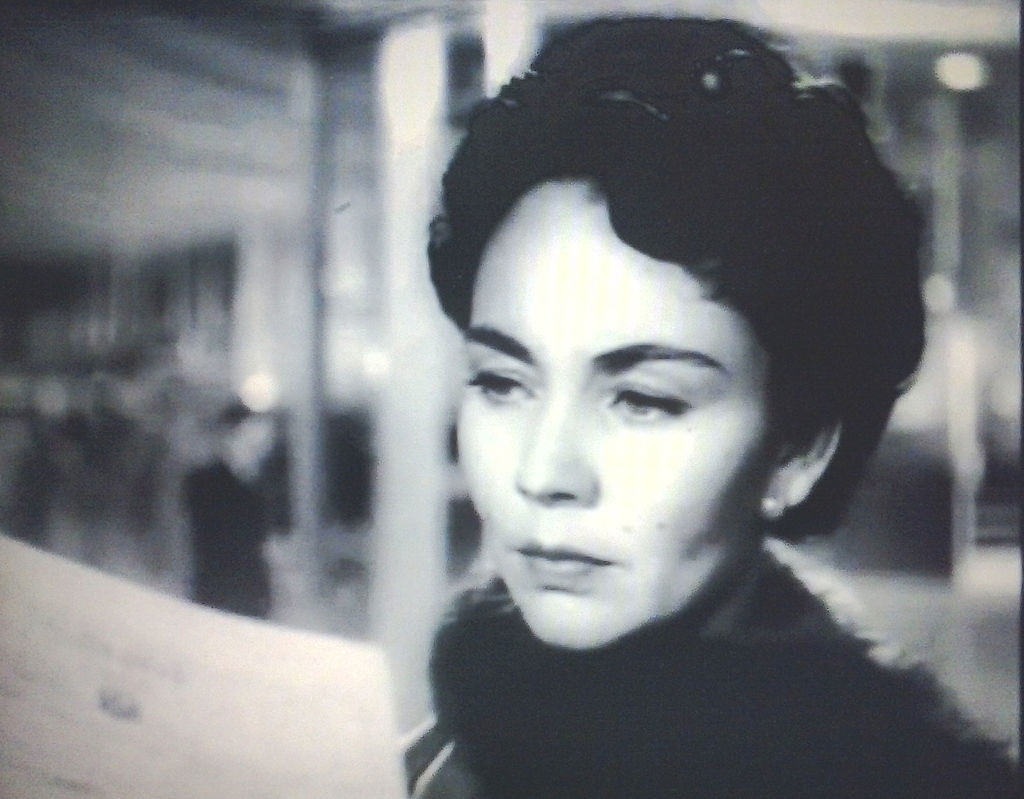 You must watch this film for Montgomery Clift, who effortlessly changes gears from Catholic priest to hot blooded Italian lover. He has sizzling chemistry with Jennifer Jones; in their scenes together, the heat almost leaps off the screen. Clift the actor communicates so much with subtle touches and gesture. As he walks away at the end, the way he moves his body reveals more about character than dialogue ever could.
The Defector (1966)
The Defector 1966 is perhaps my favorite of the three films I've talked about today, and I'm not totally sure why it strikes such a deep chord with me. Maybe it's because this is Montgomery Clift's last film before his untimely death at age forty-five (in 1966).
During the filming of Raintree County in 1956, Monty left Elizabeth Taylor's house after a dinner party and fell asleep at the wheel, crashing his car into a telephone pole. He needed plastic surgery for his face and increasingly turned to alcohol and pills to numb the pain. The crash had a catastrophic effect on his life and career. He was never the same after the accident.
His close friend (or should I say his soul friend) Liz Taylor gave him the opportunity to work together again in the film Reflections in a Golden Eye, offering him a chance to revive his Hollywood career, but first, he had to perform in The Defector.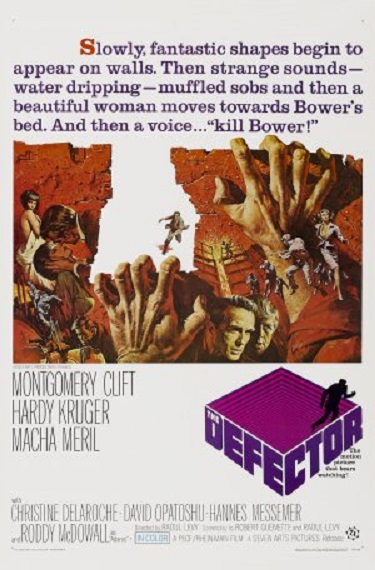 And what a cool little Cold War spy thriller it is! The Defector stars Montgomery Clift as Professor Bower, an American physicist and art expert blackmailed into helping the CIA obtain secret microfilm from a defecting Russian scientist.
When Bower goes undercover in East Germany then tries to make a daring escape back to the West, he is aided by an unlikely friendship he forms with fellow physicist and German secret agent Heinzmann (the excellent Hardy Kruger). The bond that develops between the two opposing agents gives this spy movie its unique twist.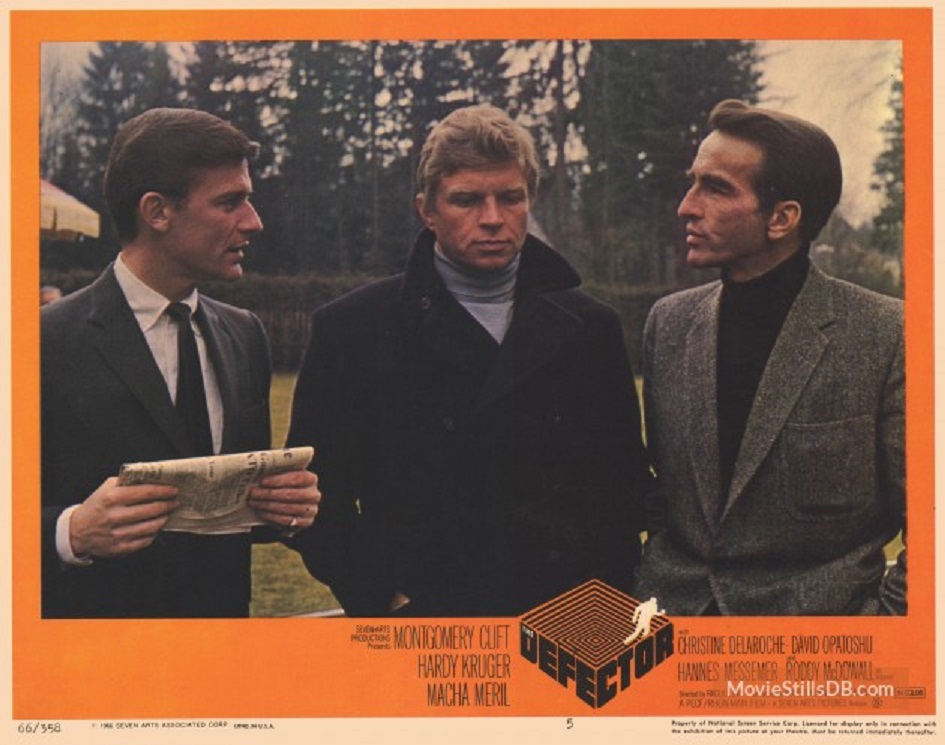 Although Monty wasn't in good health and died of a heart attack only a few months after shooting the movie, he's terrific as the Professor, swimming in a cold river and doing all of his own stunts, gracing the role with his signature authentic behavior: when Bower crawls under a bridge to hide during his escape, Clift's face and body language totally express his terror of being discovered (and shot) by German guards.
And then there are his eyes…
Those enormous gray orbs framed by dark heavy eyebrows seem even bigger now against his slender form; those eyes look, but what do they see?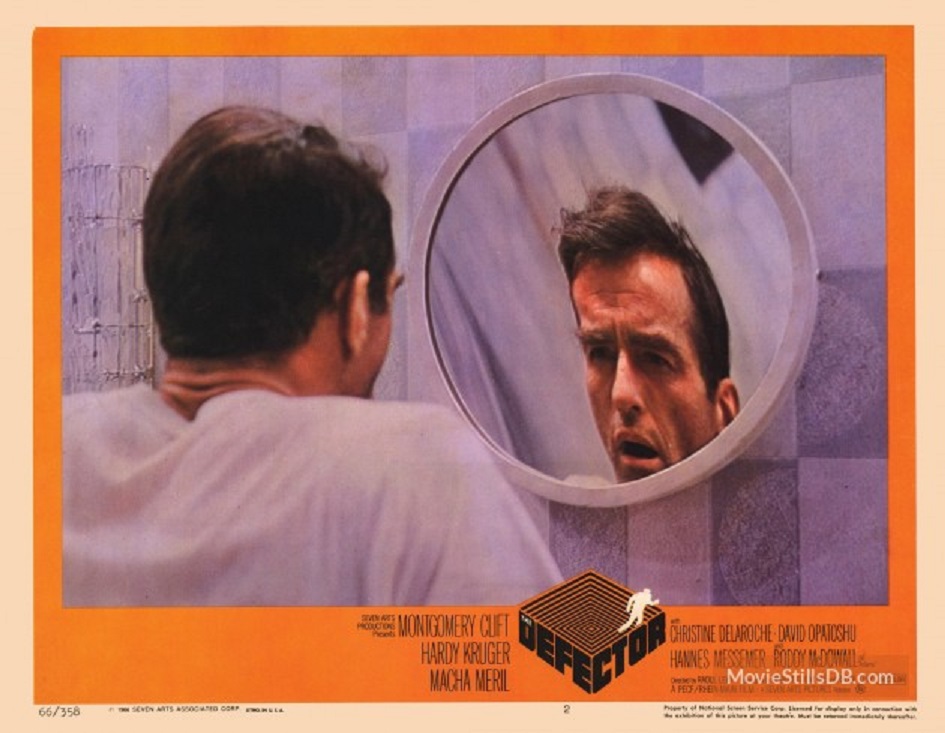 His gaze is riveting, searching, conveying the confusion, isolation and trepidation of being a reluctant spy on the run (and the pain of being Monty?)
Monty Clift is the main reason to see The Defector and fans will definitely want to catch his final movie.
I Confess, Indiscretion of an American Wife and The Defector are good but flawed films elevated by the passion of Montgomery Clift, his artistry and commitment to the craft of acting.
A Place in the Sun and From Here to Eternity are his quintessential films and essential viewing for Monty fans. However, don't overlook the three movies mentioned above, worth watching for the magic and mystery of these fascinating Monty Clift performances.
(Images: The Movie Stills Database, famousfix.com, The Movie Poster Database, Wikipedia, Wikimedia Commons, LobbyCards.net)