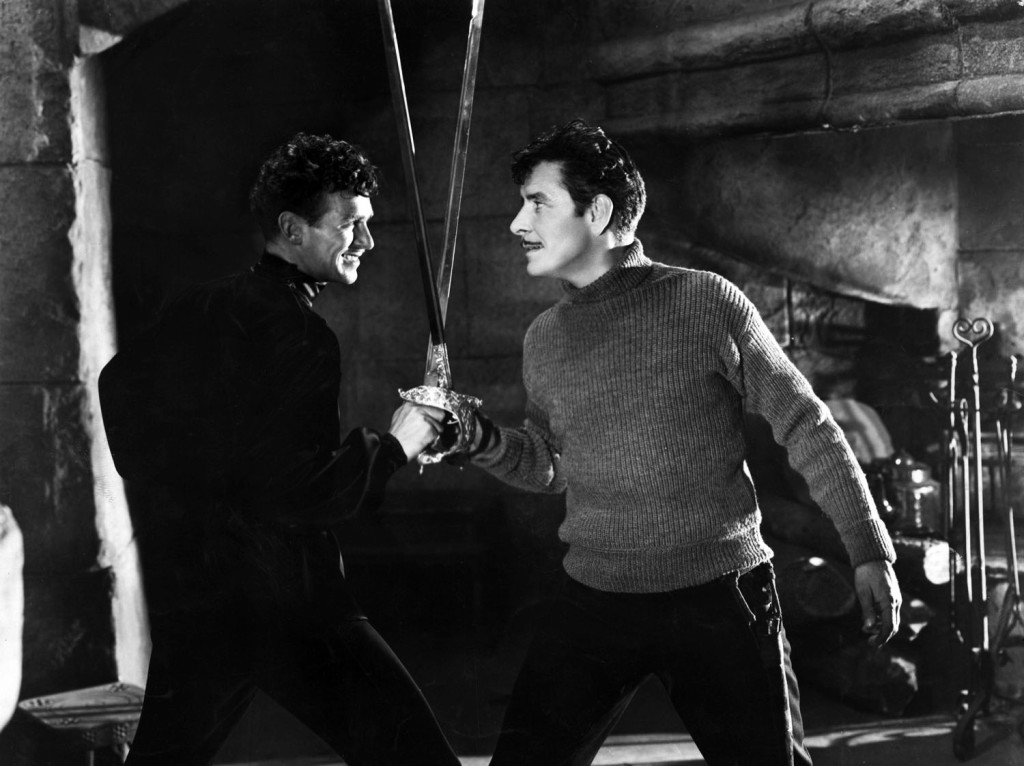 "Somebody once called fidelity a fading woman's greatest weapon and a charming woman's greatest hypocrisy. And you're very charming…" –Rupert of Hentzau, from the film The Prisoner of Zenda (1937)
I love a good swashbuckling adventure, done up in romantic 30s celluloid style. As a girl, I adored young Cary Grant in Gunga Din, which starred another beautiful actor who caught my eye, the dashing Douglas Fairbanks, Jr. When The Prisoner of Zenda (1937) also starring Douglas Fairbanks, Jr. was playing on TCM, I tuned in to see Doug. I'm so glad I did, as this film has it all: talented and charismatic actors, a well crafted script, stylish costumes and sets, breathtaking action sequences and a wry sense of humor.
Then why is The Prisoner of Zenda overlooked and underrated?
The Prisoner of Zenda (1937) Review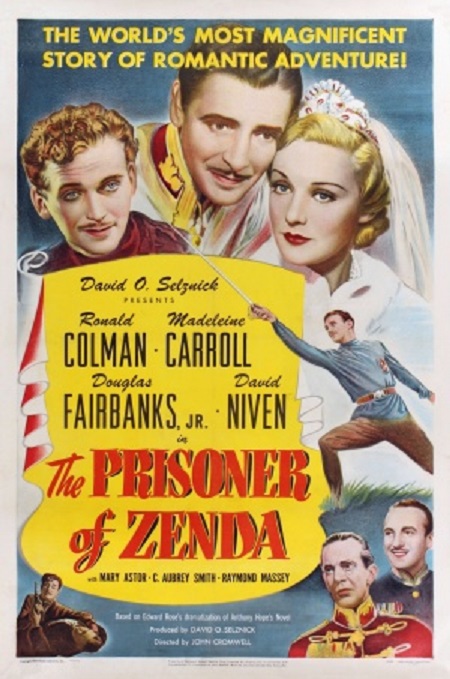 The film's plot revolves around the power struggle for the throne of an unnamed European kingdom. As the movie begins, English gentleman Rudolf Rassendyll (played by Ronald Colman) goes on a fishing trip where he encounters Fritz (David Niven) and Colonel Zapt (C. Aubrey Smith), two aides to the about to be crowned King Rudolf V (also played by Colman).
The men are astounded by the striking resemblance between the king and Rassendyll (who turns out to be King Rudolf's distant cousin). The night before the coronation, King Rudolf is drugged by his half brother Michael (Raymond Massey), so Fritz and Zapt convince Rassendyll (the doppelganger) to be crowned in King Rudolf's place, impersonating the king until the rightful royal can be restored to the throne.
All sorts of complications arise, as black hearted Michael schemes to eliminate King Rudolf, seize the throne for himself, and marry King Rudolf's intended bride the Princess Flavia (Madeleine Carroll). When Michael's henchman Rupert of Hentzau (the delicious Douglas Fairbanks, Jr.) kidnaps the drugged King Rudolf and hides him in Zenda Castle (where he's now the "Prisoner of Zenda"), Rassendyll must find a way to penetrate the castle, free the king, and fend off Hentzau, in one of the most thrilling sword fights ever filmed…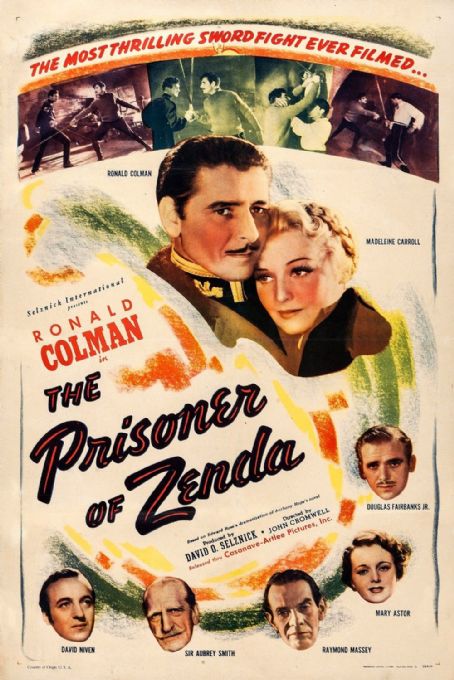 There have been several filmed versions of the popular "Prisoner of Zenda" story, but this 1937 movie is the best, due to the pitch perfect casting and excellent performances.
Much of the film's success hinges on the work of Ronald Colman, who's a pleasure to watch as he handles the dual role of Rudolf Rassendyll/King Rudolf with ease. Rassendyll's amused, sardonic air keeps the film from becoming too heavy handed.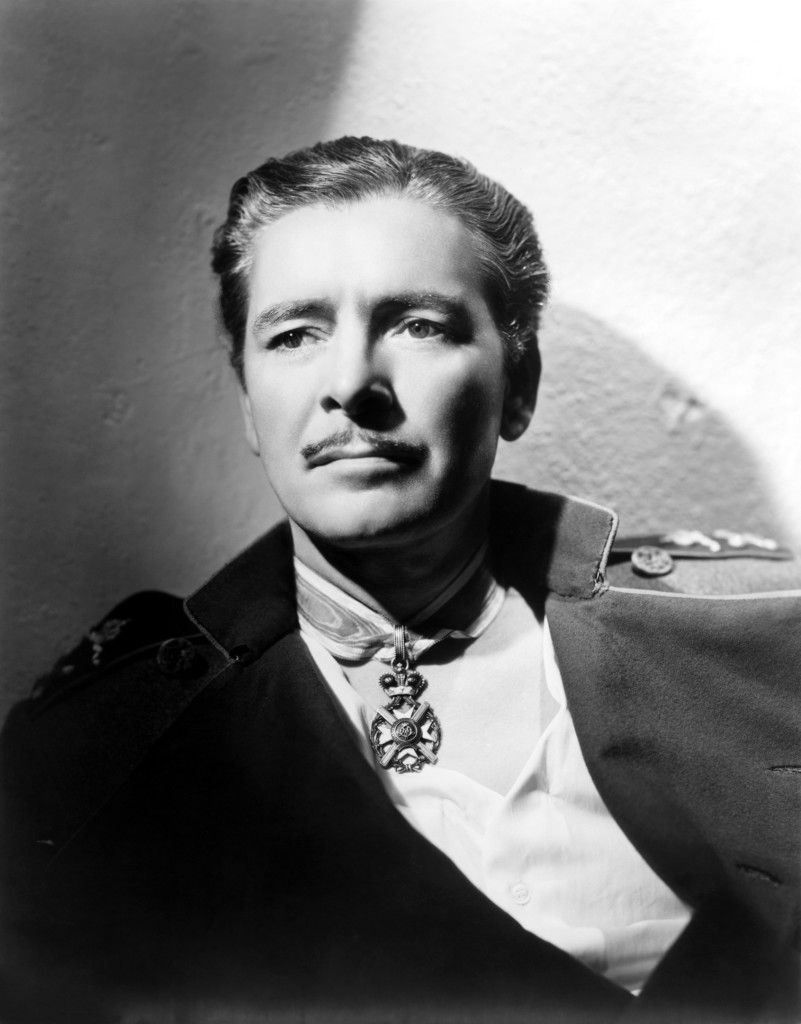 The same can be said for two supporting players, David Niven and C. Aubrey Smith. The Prisoner of Zenda was a breakthrough role for Niven and he relishes all the dialogue and comedic bits he is given throughout the movie. C. Aubrey Smith is always a welcome sight; he's an old hand at performing, the ultimate character actor, and a treasure. These British actors bring such flair and elegance to the film that it's hard to imagine Zenda without them.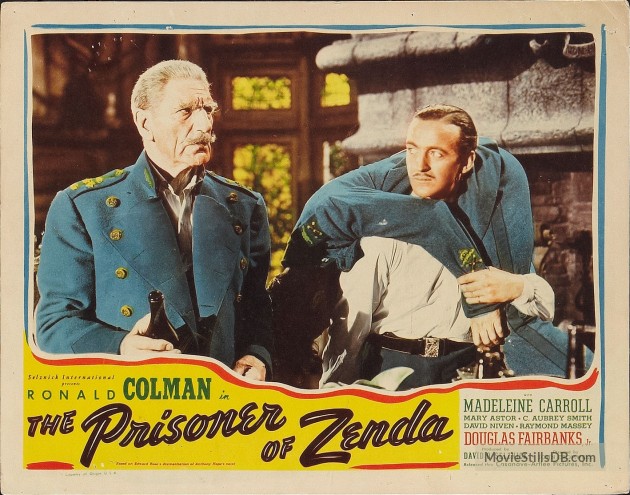 British actress Madeleine Carroll, another underrated and all but forgotten performer, exudes star quality as Princess Flavia, the woman destined to marry King Rudolf but who falls in love with his twin, Rassendyll. She's not an accomplished actress; she doesn't have to be, she's a natural.
Carroll, one of the most beautiful silver screen actresses, doesn't need to "act" the purity, morality, and radiance of Flavia, she simply embodies it, gracing the film with her presence in sweet love scenes with Rassendyll. The camera loves her, and when she gazes up while wearing a glittering crown, I get chills. It's an unforgettable classic cinema moment.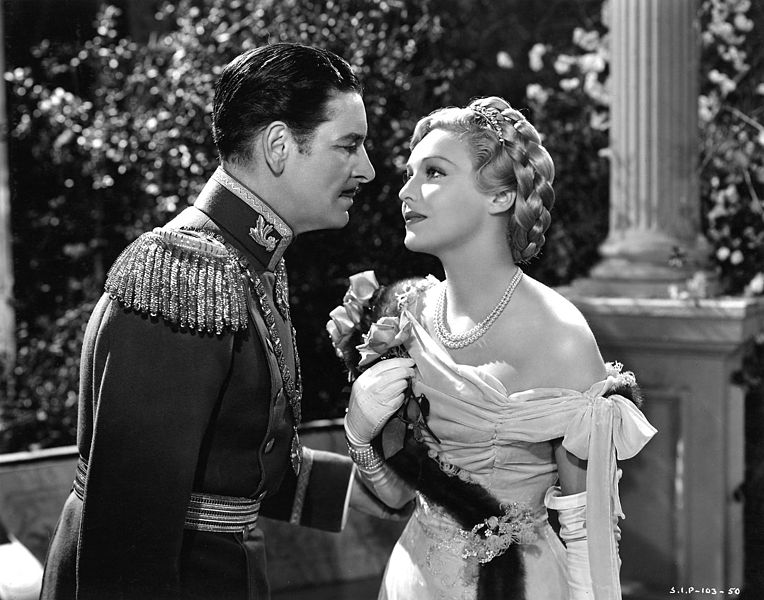 The other female lead, Mary Astor (playing the role of Black Michael's mistress Antoinette) always impresses me with her beauty, range, warmth and intelligence. Astor's character is described as a "woman of the world" who is hopelessly in love with Michael, imploring him to marry her instead of seeking the throne and a marriage of convenience with Flavia.
I admire Astor's versatility. In Red Dust, she played the ingenue like Madeleine Carroll, but here she makes the most of a small but significant role. She must be a gifted actress to make us believe her knowing, mysterious character could be so devoted to a dud like Michael (played by Raymond Massey, the film's only lackluster performance).
In classic films, I notice "good girls" and "bad girls" and a woman had to choose a side. Astor falls into the latter category; she wears a lot of dark clothing and veils and hangs around murky castles conducting clandestine meetings, rebuffing Hentzau's advances (he wants to come to her room…) Quite a contrast to the "good girl" Princess Flavia, who wears white a lot and is referred to as an "insipid flaxen haired doll."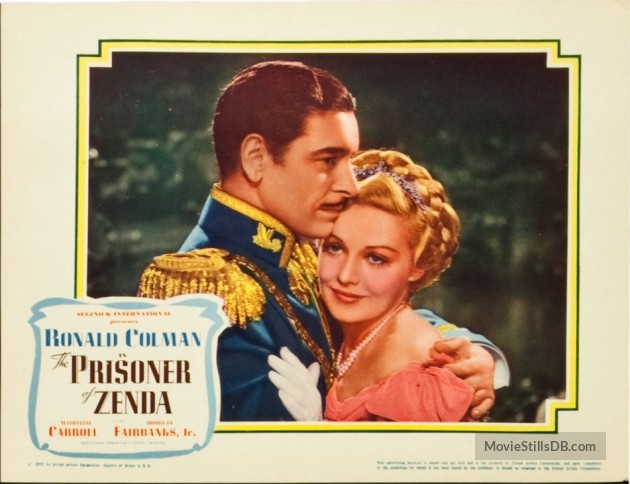 I love both the ladies in this film. Carroll is breathtaking but in my opinion, Mary Astor almost steals the show from Douglas Fairbanks, Jr. as Hentzau. In fact, I'd love to see a movie starring the two of them, all about their Zenda characters!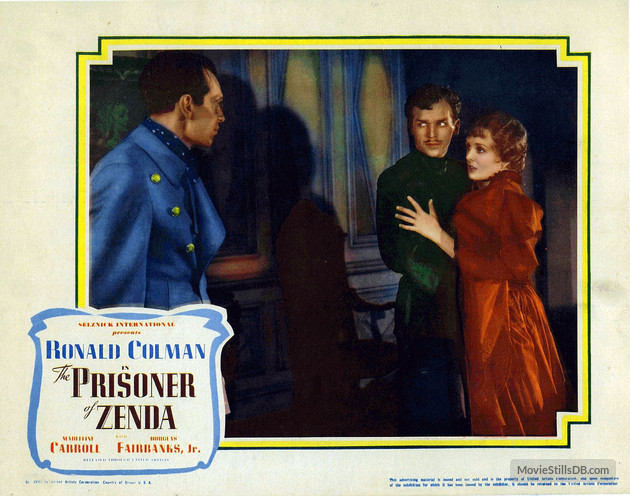 The Prisoner of Zenda (1937) Douglas Fairbanks, Jr.
Douglas Fairbanks, Jr. is the best thing about The Prisoner of Zenda. His Rupert of Hentzau is one of the great cinema villains, all epaulets, white gloves and cigarettes.
Fairbanks, Jr.'s performance is vital to the film; without him, Zenda wouldn't have been nearly as much fun.
He's delightfully mercurial, steel wrapped in velvet, romancing Mary Astor's character one minute, menacing Rassendyll the next, keeping us off balance, always wondering what his evil henchman will do next.
And he looks amazing too! With his lithe dancer's body and urbane manner, Doug displays incredible, swashbuckling style. He was born to wear all the Zenda costumes. What a matinee idol, something to dream on! (One of the most beautiful men ever…)
Fairbanks, Jr. creates such a multidimensional villain that it's unsettling: he confuses our sensibilities by making a morally reprehensible character so seductive and appealing.
(What does it say about us if we're secretly attracted to Doug as Hentzau? What if we find him more desirable than Rassendyll? Maybe characters like Rupert of Hentzau and films like Zenda allow us to explore our shadow side in a safe, cinematic way…)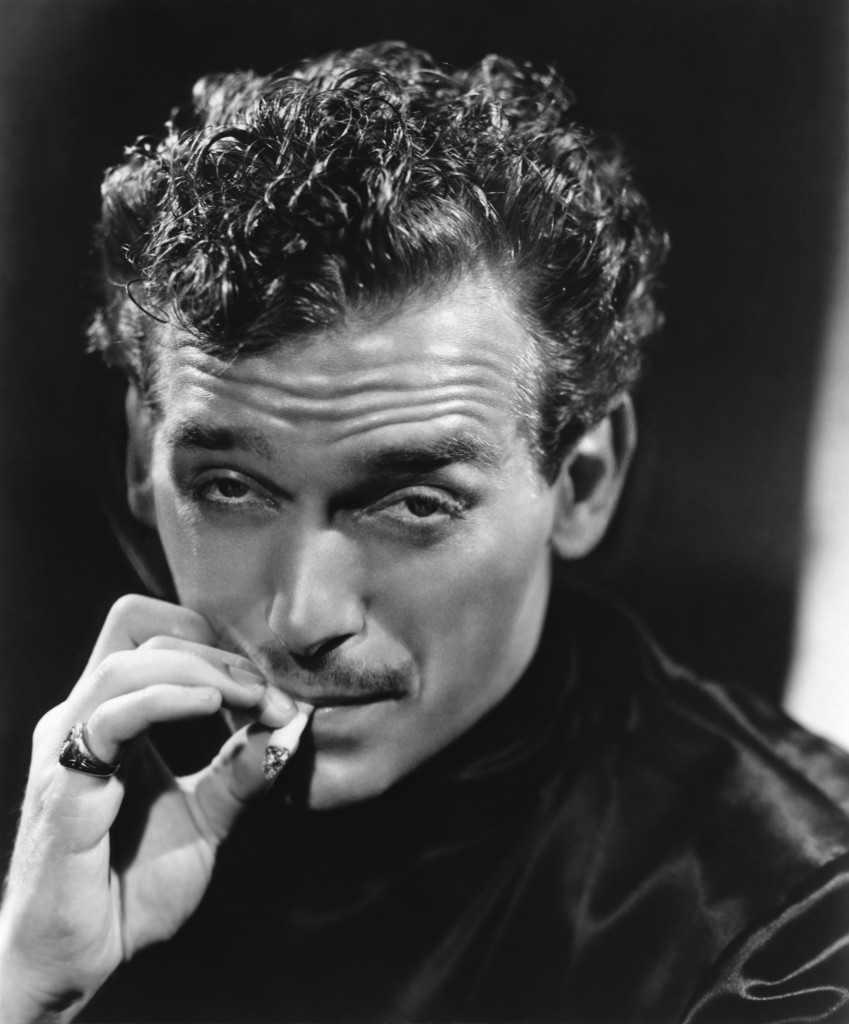 I'm amazed at how Fairbanks, Jr. comes up with so many layers that aren't in the wonderful script. The subtly exaggerated eye rolling and body language are reminiscent of the old days of silent film, but he makes it all work. Rupert seems sweet enough on the surface, always laughing, smoking, throwing barbs and trading quips, but don't cross him or he will strike! Hentzau's sunny side makes his heinous deeds seem all the more dastardly, because we simply don't expect them from such a dashing, beautiful man.
It's unfair that Douglas Fairbanks, Jr. didn't receive more acclaim for playing Rupert of Hentzau and for his entire body of work. Maybe it's because he makes it look so easy! He's so good looking and personable and joyful that all his hard work seems effortless.
Some actors in the celluloid vault are unsung performers who don't always get the credit they deserve (stars like Monty Clift, Kay Francis, and I could go on and on…) One of the joys of Celluloid and Lipstick is celebrating my favorite overlooked performers.
I hope as new audiences discover Zenda, it will shine a light on Doug and he will be remembered as one of the great actors of the Golden Age of Cinema.
The Prisoner of Zenda: Underrated Film
We don't have films like The Prisoner of Zenda these days. In Zenda, everything is heightened, like Shakespeare's classics, and more theatrical than modern, realistic films.
In the digital era, we get our thrills from car crashes, explosions and computerized special effects, and don't have the patience for something as lyrical and poetic as The Prisoner of Zenda.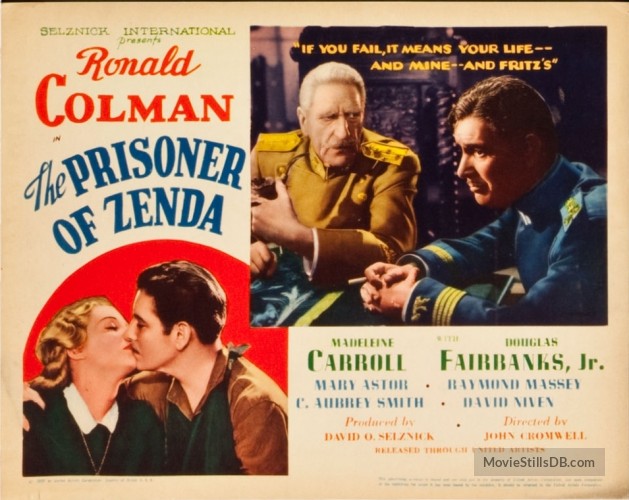 In the celluloid age, it took a lot more skill, subtlety and subtext to communicate danger and Zenda did it in such a refined, classy way, through the performances, the dialogue, and the atmosphere. I appreciate the beauty and romanticism of films like The Prisoner of Zenda, qualities often lacking in the digital age.
Watch The Prisoner of Zenda for Douglas Fairbanks, Jr.'s performance as Hentzau, one of the best villains of all time. This movie offers such fine acting, writing and storytelling; I've often wondered why it's not better known. On a cold winter night or a balmy summer evening, escape with me to Zenda, and get swept away to a land of castles, beautiful damsels, mythical kingdoms and handsome gentleman. Give this film a chance and I think you'll agree: The Prisoner of Zenda is great entertainment and an underrated masterpiece.
(Images: Wikimedia Commons, The Movie Poster Database, The Movie Stills Database, lobbycards.net, and fanpix.net.)