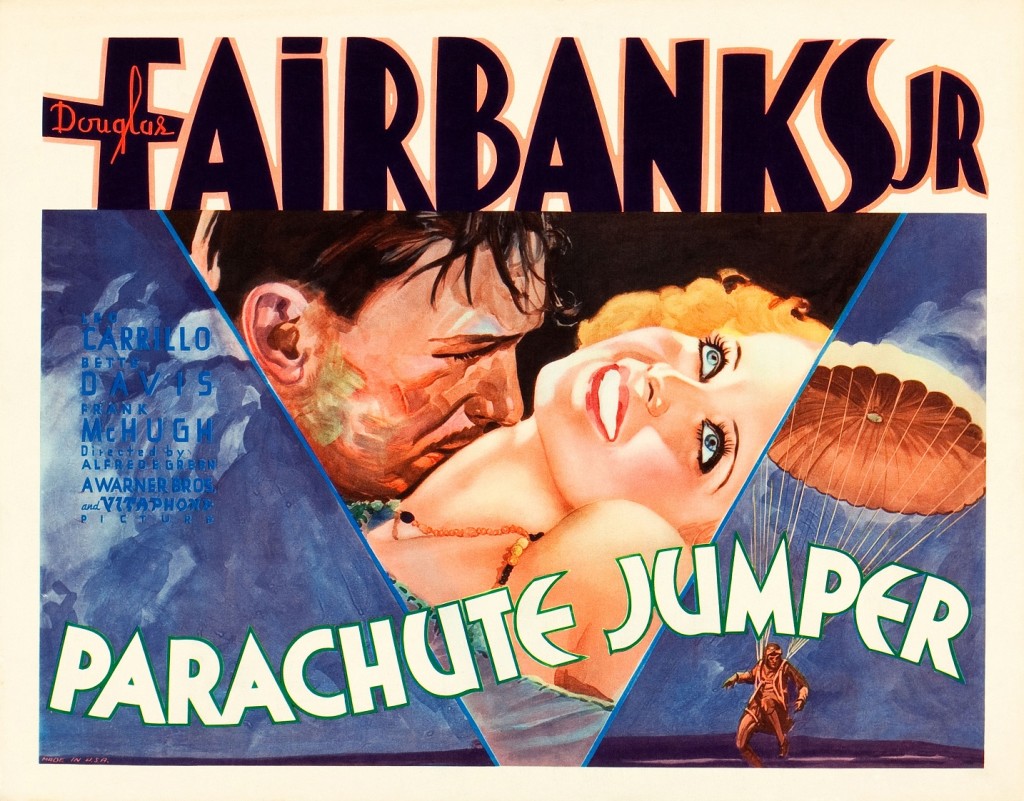 "I'm a stenographer without a typewriter to pound, a piece of gum to chew, or a place to put it." –Bette Davis as Alabama, from the film Parachute Jumper (1933)
If you've only seen Douglas Fairbanks, Jr. in movies like The Prisoner of Zenda and Gunga Din, check out the Pre-Code film Parachute Jumper (1933) starring Fairbanks, Bette Davis and Frank McHugh. Part action adventure flick, part crime caper, part screwball romance, this light hearted romp showcases Doug's way with witty dialogue and his skills as a comedic-dramatic actor.
Parachute Jumper (1933) Review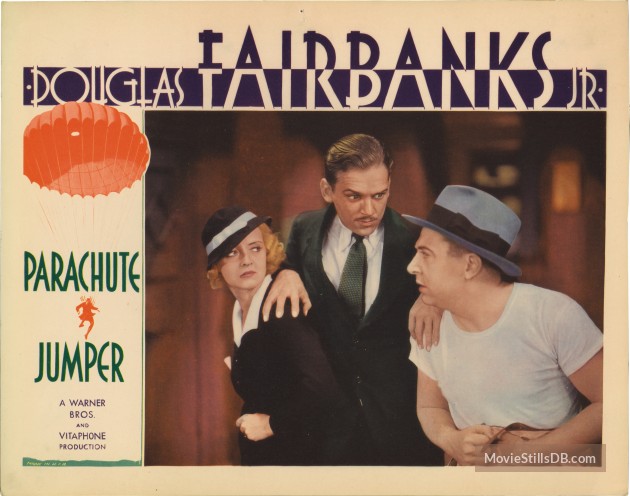 In Parachute Jumper, Bill Keller (Douglas Fairbanks, Jr.) and Toodles Cooper (Frank McHugh) are two ex-Marine Corps flyers and roommates looking for work during the Great Depression in New York City. Down on his luck and reduced to his last fifty cent piece, Bill bumps into a pretty, unemployed Southerner he nicknames Alabama (played by Bette Davis). She looks thin so he buys her plate of ham and eggs then sweet talks her into moving in with him and Toodles.
The story revolves around these three characters and their involvement with a slick gangster named Kurt Weber (Leo Carrillo). After Bill risks his life "parachute jumping" for grocery money, he lucks into a job as a chauffeur for Weber's girlfriend Mrs. Newberry (Claire Dodd), who clearly wants a lot more from Bill than driving her car.
Weber threatens to shoot when he catches Bill kissing Mrs. Newberry, but Bill talks his way out of the dangerous situation and ends up being hired as Weber's bodyguard.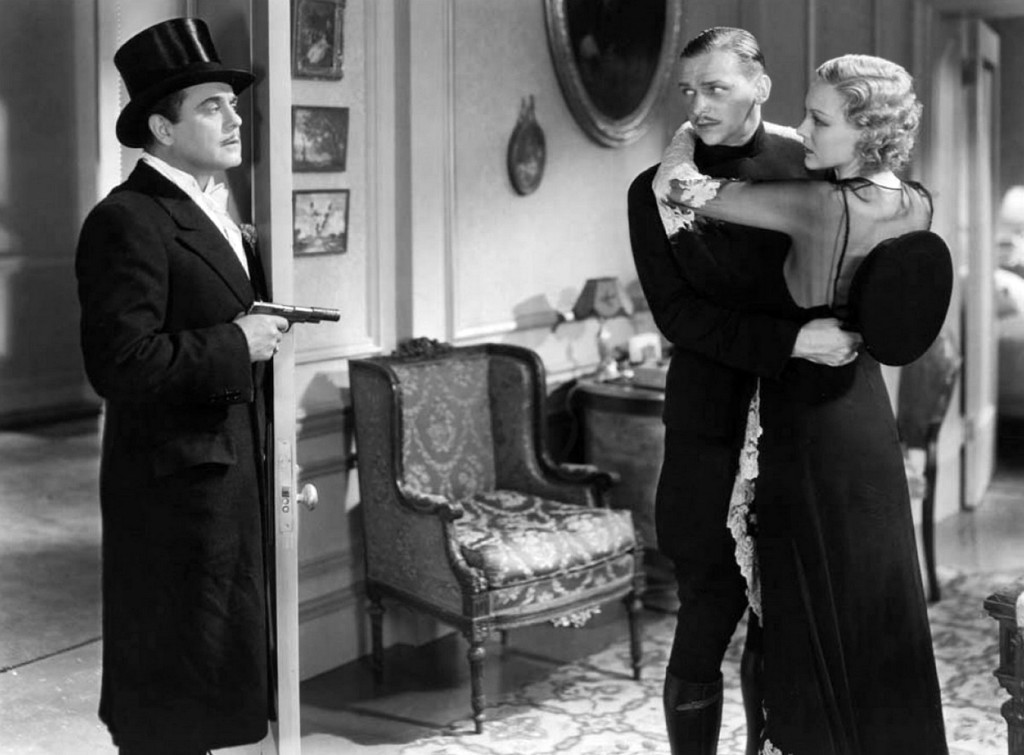 As Toodles and Bill fly around smuggling liquor for their bootlegger boss, Bill's romance with Alabama hits a snag after she flirts her way into a job as Weber's secretary.
When Bill is almost framed for murder and the two friends find out Weber is actually running a narcotics ring, they try to extricate themselves from the gangster while Bill attempts to mend his rift with Alabama (and this being such a happy-go-lucky kind of film, we sense there'll be a happy ending for such a delightful young couple).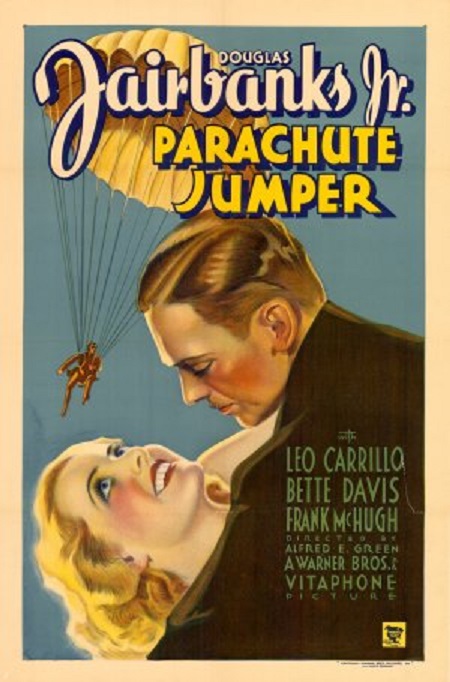 Directed by Alfred E. Green, Parachute Jumper is a drama that also works as a screwball comedy. There's a gleeful lawlessness in the Pre-Code universe, where characters speak sexy, sophisticated banter and suggestive scenes slip by the strict but not-yet-enforced Hollywood censorship.
Claire Dodd has some great lines as Mrs. Newberry. She slinks around sizing up her employee Bill like a cat eyeing a rather large, tasty bowl of cream; she tells him there'll be a lot of "night work" but she thinks he'll enjoy the "position," and all of her chauffeurs have been Frenchmen because as a rule, they're "more versatile."
Parachute Jumper also reflects the Pre-Code's fascination with crime. While some Depression era films such as Jewel Robbery and Trouble in Paradise offered luxurious sets, fancy costumes and elegant jewel thieves as escapism for weary audiences, Parachute Jumper is a slice of life tale about three ordinary people trying to survive the tough economic times any way they can.
If that means working for a gangster as a way to keep the wolf away from the door, so be it. The Pre-Code value system doesn't judge Keller and Toodles or any of the film's amoral behavior. The movie glamorizes Weber, depicting the violent criminal as a smooth operator who views the law as something to laugh at.
It's interesting how the lead characters willingly smuggle booze for Weber; however, they draw the line at being part of a narcotics ring.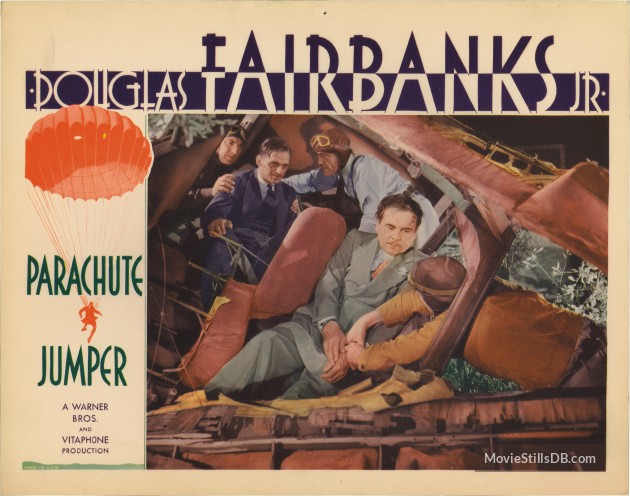 One of the joys of Parachute Jumper is the chemistry between the very funny Frank McHugh, Douglas Fairbanks, Jr. and Bette Davis. How can you not love a film with characters named Toodles and Alabama? Evidently, Bette Davis didn't love it. She hated second banana girlfriend roles and called this her least favorite film!
I really enjoyed her as Alabama, a tough talking celluloid blonde who manages to retain some hopeful vulnerability. She's a dame in the gutter looking up at the stars, been around the block a few times and racked up some disappointments, living by her wits, wondering if she can put her faith and trust in Bill.
Bette Davis fans who think of her as a thundering crescendo will be surprised by the delicate, wistful Alabama. Here she is wonderful in a more subdued way, striking much gentler notes than she does in the powerful Of Human Bondage (Who can forget that film's epic, bone rattling Bette temper tantrum. Poor Leslie Howard!)
As great as Davis is, Parachute Jumper belongs to Douglas Fairbanks, Jr., our hero with a touch of Pre-Code moral ambiguity. He'll give Mrs. Newberry his "all" if necessary, he's rubbed out a few in his day, and he smuggles liquor in some thrilling aerial sequences.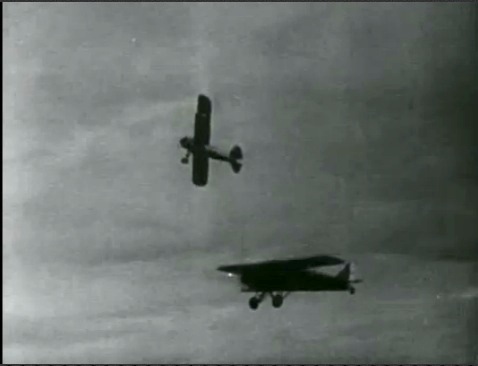 After seeing Parachute Jumper and The Dawn Patrol (aka Flight Commander) I want to fly a plane! (Maybe I'll visit the Old Rhinebeck Aerodrome!)
It's a testament to Fairbanks that he could make a character tangled up in illegal activities so charming and likeable. We care about Keller and want him to succeed. This film gives Doug a chance to display his range as an actor, as there are many facets to Bill: he's a soft hearted good guy in love with Alabama, a loyal friend, a brave pilot, a bit of a daredevil, and a wisecracking tough guy, and he shows all these sides in fantastic style!
There's a scene in a nightclub where Keller is all dressed up in evening wear, and his elegance is quintessential Fairbanks. His character is kind of an old soul, so it's hard to believe that Doug was only twenty-four in this movie. He demonstrates impeccable comic timing, delivering the rapid fire dialogue with a maturity beyond his tender years.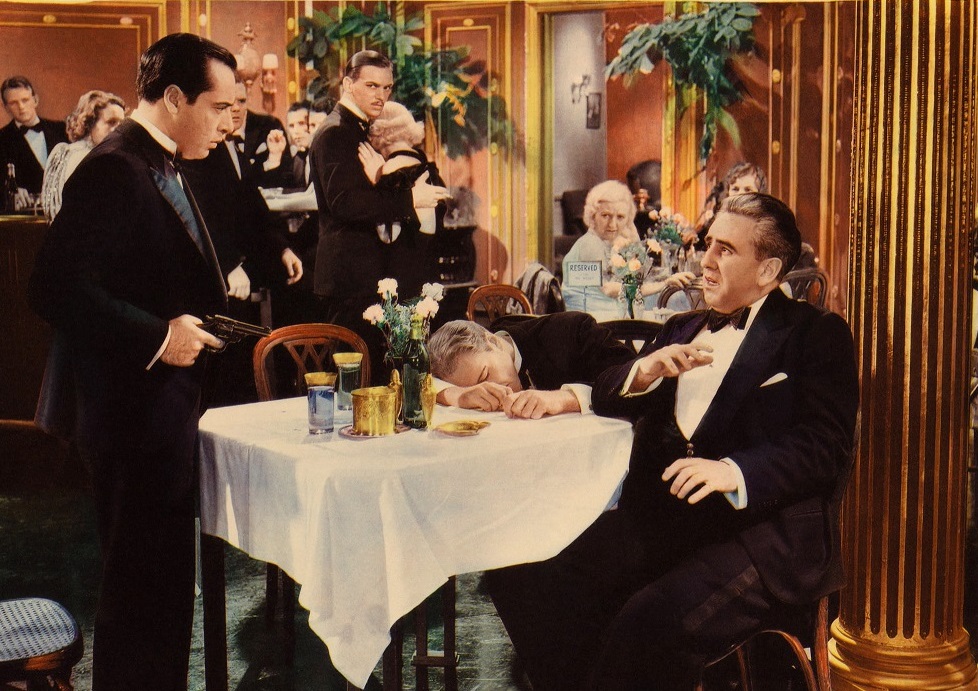 Douglas Fairbanks, Jr. worked in silent films, such as the dramatic A Woman of Affairs, so he knows how to make the most of a mood, a look, a gesture; when Bill is told to get rid of a mysterious package if something goes horribly wrong while he's smuggling liquor, we see the remark land on him. He pauses, thinks it over and takes it all in, and its full implications, before finally issuing a terse "Okay." We learn a lot about the character of Keller in moments like that, revealed to us through the artistry of Doug's acting.
What a delight it was to see Parachute Jumper when Douglas Fairbanks, Jr. was featured on TCM's Summer Under the Stars. I was bowled over by the sheer variety of roles he played, how he was able to create so many unique characters. Watching his body of work definitely gave me a new appreciation for his gifts and I've wondered why he is often overlooked as one of the great classic actors.
If you're familiar with Doug as an action adventure star, try Parachute Jumper, a fun little movie that allows us to experience a whole other side to the swashbuckling Fairbanks.
Shopping for the Parachute Jumper (1933) DVD
The Parachute Jumper DVD is available to purchase at the following stores:
Buy the Parachute Jumper DVD at Amazon.com
Buy the Parachute Jumper DVD at Shop TCM
Buy the Parachute Jumper DVD at The Warner Bros Shop
You can also shop for Douglas Fairbanks, Jr. photos and movie posters at Allposters.com.
(Images: The Movie Poster Database, lobbycards.net, Famous Fix, Wikipedia, and Doctor Macro)